Events - Upcoming
09 Jan 2014
to 11 Jan 2014
Read More
We are pleased to announce the upcoming PRME Workshop/India Meeting, which will take place at the IILM Institute for Higher Education, New Delhi on 9 January 2014, followed by the International Conference on "Responsible Management Education and Practice" on 10-11 January.
The conference revolves around the theme of Responsible Management, which is increasingly gaining ground world-wide, not just as pure philanthropy or a 'do good' measure, but as a core business strategy. The conference will invite globally reputed and nationally recognised academics, practitioners, and other leaders to share, deliberate, and discuss views on themes including Corporate Social Responsibility, Business Ethics, and Sustainability. In addition to discussions and views from top managements, the conference will also be research intensive, showcasing selected papers from researchers on the above themes from across the world.
IILM invites the active participation of the PRME community, particularly those signatories from India, in this Workshop and Conference.
For more information, please visit the event webpage (coming soon), where you will find a copy of the agenda, or address questions about the meeting to IILM Dean Rakesh Chaudhry at rakesh.chaudhry@iilm.edu.
We look forward to seeing you in New Delhi!
13 Jan 2014
to 14 Jan 2014
Read More
Tampa, Florida, USA
Implementing effective budget models is becoming an increasing priority as collapsing government budgets and subsequent decreased support for higher education are forcing universities to become more market focused and financially more self-reliant. As a result, business schools are under threat of becoming viewed as "cash cows" as universities search for liquidity in a difficult transitory period.
23 Jan 2014
to 24 Jan 2014
Read More
Chapel Hill, North Carolina, USA
Leadership development courses are an increasingly important feature of business programs as schools respond to the widely recognized need for graduates who understand both the responsibilities of leadership and are capable of inspiring, influencing, and guiding their colleagues. This seminar will help schools take their leadership program to the next level. Participants will explore effective ways to enhance their schools' leadership development activities by leveraging ongoing student experiences, existing resources, and their schools' unique capabilities. This seminar includes a half-day business simulation training workshop, based on a simulation available to attendees at no cost.
20 Feb 2014
to 21 Feb 2014
Read More
We are pleased to announce the upcoming 1st PRME Regional Meeting DACH, which will take place at MCI - Management Center Innsbruck, Innsbruck on 20-21 February 2014.
This event will combine a Workshop -that revolves on themes such as social responsibility as a challenge for corporate management and humanistic management education- and a meeting in order to establish the PRME Chapter DACH. This meeting will also include a discussion on how further enhance PRME through Working Groups, Regional Chapters and Champions.
Information on the agenda will be posted as it becomes available.
Kindly note that, while this is an open event, it will be held in German.
Please send questions about the meeting to Rudi Kruz at rudi.kurz@hs-pforzheim.de
Wir freuen uns, Sie in Innsbruck begrüßen zu dürfen!

05 Mar 2014
to 06 Mar 2014
Read More
United Nations Headquarters, New York City
5-6 March 2014
The sixth annual Women's Empowerment Principles (WEPs) event, Gender Equality and the Global Jobs Challenge, will spotlight business strategies, experience and challenges on increasing and enhancing job opportunities for women and expanding access to decent jobs. With more than 600 CEO signatories worldwide, the WEPs, a partnership initiative of UN Women and the UN Global Compact, provide a roadmap for companies to advance and empower women in the workplace, marketplace and community. The WEPs 6 March event at United Nations Headquarters in New York City brings together the experience of leading stakeholders from business, government and civil society to strengthen local and global solutions. Among other topics, the event will spotlight:
Breaking through gender stereotyping, unconscious bias and ending occupational segregation

Addressing gender inequalities in pay, promotions and leadership opportunities

Enhancing paid employment opportunities for women through procurement policies and throughout the value chain

Forging links with women-owned businesses and supporting women's entrepreneurship or cooperative development programs

Bolstering efforts to increase women's access to finance, land and skills training

Engaging with women and men in communities and tailoring outreach to ensure women equal opportunities for good paying and non-traditional jobs
Learn more about the Women's Empowerment Principles (WEPs)
Event & Website Sponsorship Opportunities 2014!
Watch the 5th Annual WEPs Event here. To learn more about the WEPs, watch our video.
Early Registration for companies that have signed the CEO Statement of Support for the WEPs will commence December 2013.
To request an invitation, please e-mail Tulsi Byrne the following details:
1) Prefix, 2) First Name, 3) Last Name, 4) Work Title, 5) Organization, 6) Type of Organization, 7) Country, 8) Email Address
For questions, contact the WEPs team.
27 Mar 2014
to 28 Mar 2014
Read More
27-28 March 2014 - Melbourne, Australia
The conference in 2014 will be held at the La Trobe Business School in Melbourne, Australia.
07 Apr 2014
to 09 Apr 2014
Read More
PRME Steering Committee Member, AACSB International is hosting their largest and most anticipated event of the year, the International Conference and Annual Meeting (ICAM) in Singapore, 7-9 April 2014.
Gathering professionals from the top business schools worldwide, ICAM introduces and explores industry topics through new and thought-provoking perspectives. ICAM will provide new opportunities specific to your attendance and endless benefits to your school. Bring your b-school teams for this comprehensive and exceptional learning opportunity. The 2014 ICAM Program was developed to address Innovation, Impact and Engagement according to the 2013 Accreditation Standards. Sessions are themed to address the Accreditation, Sustainability and Collaborative efforts of B-Schools worldwide.
08 Apr 2014
to 09 Apr 2014
Read More
The 1th PRME UK and Ireland Chapter Forum will be hosted by Winchester Business School in Winchester, Hampshire, United Kingdom on 8-9 April 2014.
More information will be provided shortly.
08 Jun 2014
to 20 Jun 2014
Read More
The 15th edition of CEEMAN's International Management Teachers Academy will take place on 8-20 June 2014 in Bled, Slovenia. Applications due 15 February 2014.
The 2014 IMTA disciplinary tracks include:
Accounting
Finance
Marketing
Strategic Management
Leadership and Change Management
Business in Society, introduced in 2013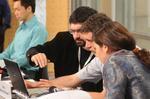 IMTA is an intensive and highly interactive two-week program with a well-balanced focus on general and discipline-specific aspects of management education.
Week 1
focuses on common issues related to general aspects of management education, with special emphasis on the case method and project work. It also deals with the skills required in the multiple roles of faculty. Innovations in management development are discussed in the context of IT, project-based education, and the integration of the arts, culture, and science.
Week 2, structured into disciplinary tracks, such as Strategic Management, Marketing, Finance, Accounting, Leadership and Change Management, and Business in Society, when participants focus on requirements and opportunities more specific to their particular disciplines. Pre-program individual preparation and in-program lectures and discussions, individual preparation, small group discussions and teamwork, case discussions, simulations, role-play, presentations, and other work methods position IMTA participants at the center of the learning process.
See more information on the program structure, faculty and application process at www.ceeman.org/programs-events/imta-international-management-teachers-academy.
______________________________________________________________
About
CEEMAN International Management Teachers Academy (IMTA) provides a unique opportunity for young faculty to develop their curricula, course design, teaching materials and particularly teaching skills and methods. The program is heavily based on the case method, including teaching with cases, case writing, and performance evaluation and feedback to students. It is also designed to improve competences and skills integral to specific managerial disciplines, and provides input essential in other areas of a faculty member's professional life, such as consulting, institution development and administration, and social responsibility.
The exchange of ideas and experience with colleagues from other countries is also an invaluable source of learning, and an effective instrument in establishing professional contacts and networks.
According to post-program feedback received by IMTA participants and their institutions, the effects of the program go far beyond individual professional career development. Its benefits also include an impact on the participants' institutions and their respective stakeholders.
Aims
The most frequently stated program results are:
improved educational skills
development of new teaching materials
new research project and doctoral thesis leads
student (customer) satisfaction
international case competition awards to IMTA alumni
contribution to institution building
greater international cooperation, faculty networking, and exchange
Alumni Association
IMTA Alumni Association consists of close to 470 graduates, representing more than 142 institutions and 38 countries. This alumni network is a powerful platform for further professional development, experience exchange, joint projects and initiatives and a strong contributor to the institutional development.
IMTA Foundation for Faculty Development
In November 2012, CEEMAN established the IMTA Foundation for Faculty Development (IMTA Foundation). Its goal is to provide external funding and enable the IMTA program to develop and expand IMTA and IMTA-related programs and to maintain tuition fees at an affordable level for most of its members, while offering special scholarships for institutions in need, including those from dynamically changing environments in different regions.
IMTA Educational Material Development Programs
The IMTA Educational Material Development Programs – Case Writing Module and Research and Publishing Module - respond to a broadly shared perception among CEEMAN members that excellence in teaching can only be achieved if institutions and faculty members commit themselves to bringing new knowledge into the classroom through up-to-date and relevant cases and managerially-oriented research. They also address a demand from IMTA graduates for follow-up education to complement their previous IMTA studies.
28 Jul 2014
to 30 Jul 2014
Read More
Leveraging Innovative and Cross-Country Learning for Poverty Reduction: Climbing the Economic Ladder: Examples from and for Nicaragua
In spite of the fact that poverty has been reduced in some countries to date, approximately 50% of the world's 7 billion people still live on less than US$2/day. Increasingly, multinational corporations, entrepreneurs, social businesses, and social investors are working to eradicate poverty in creative, innovative ways. Whether the academic research coming from business schools and programs captures this vitality and whether the design of management education programs and curricula develops managers to address the challenge of poverty in the 21st century is open to debate.
This conference focuses on poverty eradication as a responsibility of business and its implications for business curriculum and strategy. As such, this conference has these four goals:
To take the issue of poverty out of its "academic tower" through a day-long, immersion field experience in a poor community for all participants

To use Nicaragua as a learning/innovation laboratory through discussions with government, business, non-profit, community, student, and youth-services leaders involved in local and regional poverty alleviation programs

To create opportunities for an exchange of ideas, perspectives and best practices through active, cross-discipline and cross sector discussions

To develop a more sustainable, inclusive educational/research model in management education that moves the issue of poverty eradication from being peripheral in business curricula and programs to a more central standing.
Conference Host Institution: INCAE, a private, non-profit, multinational, higher education organization devoted to teaching and research endeavors in the fields of business and economics with an emphasis in integral Latin American development. INCAE focuses on managerial training, from a global perspective, of individuals capable of successfully holding top management positions in Latin America.
Conference Format
The conference will blend traditional paper presentations with small group break-out sessions and a day-long, field immersion experience on day 2. The conference will give delegates opportunities for interaction with policy and community leaders as well as with one another.
Delegates will be housed on the INCAE campus, Francisco de Sola, Nicaragua.
Simultaneous translation will be provided for all sessions.
Conference Fee
Early Registration Conference Fee: $800 – before April 30, 2014.
Conference Fee: $950 -- May 1, 2014 and after.
Conference fee is all-inclusive including shared accommodations on the INCAE campus, all meals, transportation for the day-long field experience, all conference materials and transportation to and from the Managua international airport. Not included: Airfare to and from the conference and incidental, personal expenses.
Note: A limited number of conference scholarships are available. Please request scholarship information and criteria by contacting: povertyconference@incae.edu
Conference Host Institution: INCAE, a private, non-profit, multinational, higher education organization devoted to teaching and research endeavors in the fields of business and economics with an emphasis in integral Latin American development. INCAE focuses on managerial training, from a global perspective, of individuals capable of successfully holding top management positions in Latin America.
To express interest in the conference and to ensure the receipt of updated information, please email: povertyconference@incae.edu
View: Call for Papers
23 Oct 2014
to 25 Oct 2014
Read More
As part of a new partnership, PRME and Giving Voice To Values (GVV) are offering a $10,000 award for an outstanding GVV-style case on anti-corruption. The case competition will be managed by the North American Case Research Association (NACRA). Cases submitted for the award and judged acceptable will be presented at NACRA's 2014 annual meeting in Austin, Texas, on 23–25 October 2014.
Cases should be submitted electronically, following the submission instructions provided on the NACRA website. [Instructions will be posted in early 2014.] The submission deadline is normally in mid-June. For questions about the submission process or about NACRA, please contact the 2014 Program Chair, Prof. Randall Harris. Questions about Giving Voice to Values should be submitted to Dr. Mary Gentile.
For more information about the award, please click here.
Sending Details of Events and Activities to PRME
Participating academic institutions are welcome to send relevant events and activities (to be published worldwide) to:
Email: PRME Secretariat